JEOL NEOARM Aberration-corrected Scanning Transmission Electron Microscope
The JEOL NEOARM is a scanning / transmission electron microscope, equipped with a spherical aberration corrector for the probe-forming optics. This corrector has improved stability and optimizes 5th order aberrations, leading to an as-installed resolution of <0.63Å at 200kV, and a <1.92Å at 30kV. The instrument is a high-brightness cold field emission instrument. It is equipped with two large area energy dispersive x-ray spectrometers that permit rapid atomic-resolution EDS mapping. It is also equipped with a Gatan Image Filter, incorporating DualEELS capability to ensure accurate energy calibration and a K2-IS direct electron detector at the end of the filter. This detector has a detection quantum efficiency that is close to 1.0, and thus allows high sensitivity, leading to the detection of very high energy losses.  The detector also allows 2k x 2k image acquisitions at 400 frames/second, and 512k x 2k image acquisitions at 1600 frames/second, making it optimal for in-situ/operando microscopy. This JEOL NEOARM was the first to be installed in the U.S.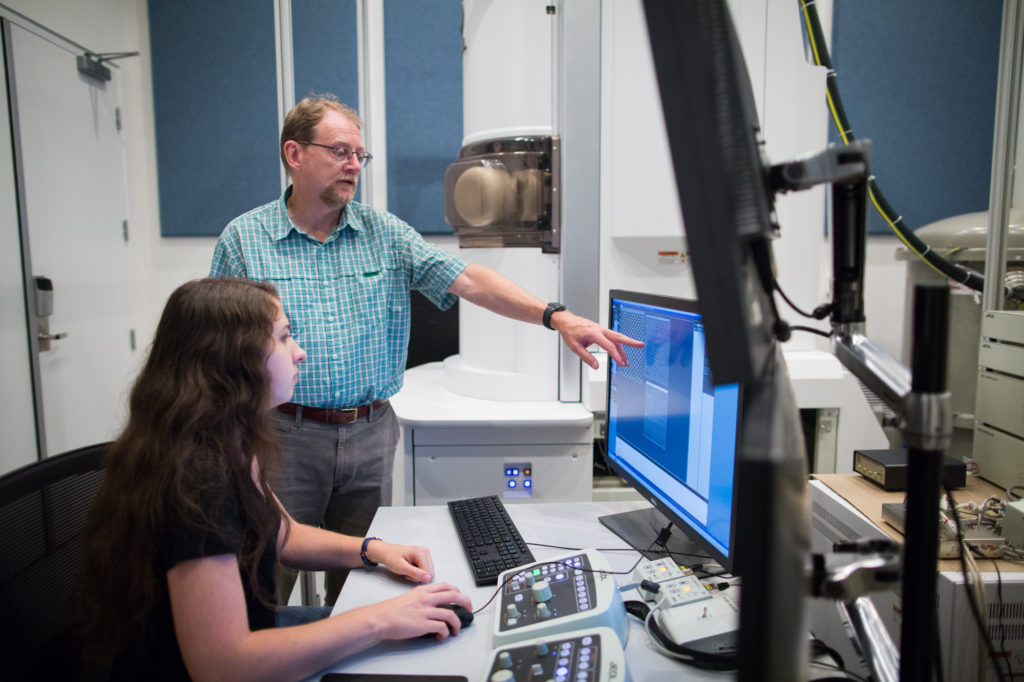 JEOL F200 Scanning  / Transmission Electron Microscope
The JEOL F200 is a 200kV scanning / transmission electron microscope with a cold field emission source, two large area energy dispersive x-ray spectrometers, and Gatan OneView IS camera for in situ/operando imaging at 30 frames per second. It incorporates STEMx capability.
This instrument is where we conduct many of our in-situ and operando experiments, as it is easy to switch between TEM, STEM, diffraction and spectroscopy modes.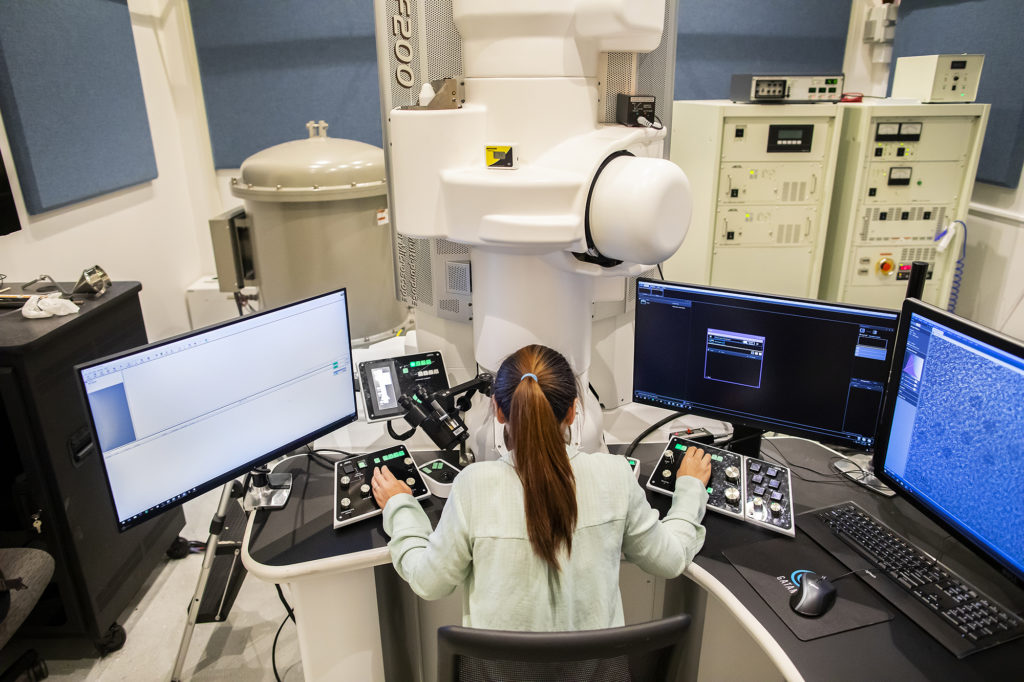 TESCAN S8000X Focused Ion Beam / Scanning Electron Microscope
The TESCAN S8000X is a versatile instrument for the characterization of materials. It combines a plasma-source focused ion beam microscope and a high- resolution (BrightBeam) scanning electron microscope. The FIB microscope is equipped with a Xe+ ion plasma source and will include additional gases in the near future. The Xe plasma can generate a focused beam up to 1 uA, which allows very high milling rates (up to 50X faster than the pior Ga+ ion technology) and does not lead to deliterous ion implantation in the same way that Ga+ ions do. The BrightBeam SEM is a field-free, ultra-high resolution electron microscope whose optics allow improved resolution, even at low energies. This improves imaging of non-conducting samples. The instrument is equipped with advanced analytical capabilities, as well. These include a Time-of-Flight Secondary Ion Mass Spectrometery (ToF-SIMS) that can detect the ions emitted from the sample, allowing chemical characterization. ToF-SIMS is especially useful in detecting light elements, including the discrimination of hydrogen and deuterium. An Energy Dispersive x-ray spectrometer allows for additional, complementary chemical characterization. The S8000X is also equipped with a cryogenic stage and a sample transfer loadlock, allowing work down to -160 C or introduction of frozen samples into the tool to be milled. A cryogenic Kleindiek nanomanipulator enables users to interact with the sample in-situ as well as lift-out frozen sections for subsequent TEM analysis.
This instrument was purchased with support from a National Science Foundations' Major Research Instrumentation grant (NSF MRI #1828545).  Additional support from the Laboratory for Research on the Structure of Matter (University of Pennsylvania Materials Research Science and Engineering Center (MRSEC) (DMR-1720530).